Cloudscapes Norfolk
Packshot on 23/11/2012
"I don't like colour… black and white suits my style better – it's minimalistic, it's formal. It's more abstract – it doesn't pretend to depict reality. It's an abstraction from day one. Colour… tries to be a reproduction of reality, and it isn't that, it's a photographic reality, as seen through a person."
So said the US photographer Roger Ballen in the Creative Review earlier this year. Thankfully, his excellent photography exhibits a great deal more nuance than this comment does, but occasionally there is something to be said for the thrust of it.
In a separate blog post, a couple of years ago now, I made a similar point about our home county of Norfolk. Many photographers' images seem to fall short of conveying the bleak, lonely experience of visiting Norfolk's coasts and countryside. This is often for one reason: some things are so omnipresent, and so obvious, that a colour photograph which depicts them (almost) as they appear can fail to really make them sing. In the case of Norfolk, with its flat landscapes, this is often the sky.
There are a number of photographers who already understand the significance of skies to Norfolk's landscapes, and who accommodate weather conditions and cloudscapes into their photography, creating dynamic, dramatic images which really make the most of one of the region's main sources of photographic interest. Nick Stone, for example. How do they do it? It all begins – I think – with black-and-white abstractions. These abstractions emphasise form and texture, drawing attention to details which you might otherwise miss around you – or even details which you might actually wish to ignore. And when it's done particularly well, something as supposedly mundane as the sky can actually become a major focal point for a photograph. Take this image. Underexposed it may be, but this manages to add to the sense of dynamism and energy, rather than to detract from it. There's also this image, in which the Red Arrows are flying in formation into forbidding heavy rain clouds. The clouds are as crucial to the success of the image as the jets, providing a neat contrast to their trails as well as a moody atmosphere.
Much of Nick's work with skies and clouds began with black-and-white photography. In recent months, though, he has re-introduced colour into his work, while maintaining similar themes. The influence of his black-and-white work remains visible in this work, with the same focus on the drama of the natural environment – and the same marvellous technical execution. Here is an image which neatly demonstrates this. And here is another one: the dull colours and the distant storm adding a sense of foreboding to the loneliness of the solitary figure in the foreground.
It's all excellent material. Have a good look through Nick's Flickr stream when you get the chance.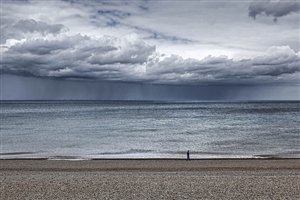 Prev
The Photography of Heinz Maier
The Photography of Heinz Maier
Next
8K
8K