Pleasure of a job
Packshot on 28/03/2013
One of our recent jobs was photographing a range of products for London-based tea company, We Are Tea.
This job was slightly different to our normal work, as we don't usually get asked to go out on location for product shoots. But this time it was necessary, to get as much of the atmosphere of the company into their images as we could, and to convey a sense of the trendy, contemporary scene in which We Are Tea was set up back in 2007.
We used a local café for the shoot, with natural light as far as possible – augmented by our own lighting where necessary to give real contrast and definition to the branding on the products. Given that their products are stocked in such world-renowned shops as Harrods, it was essential for us to ensure that we brought the very best out of the packaging, matching the prestige of the brand.
In essence, our job was to ensure that the branding is the first thing that catches the eye in the images.
We've really made the packaging design stand out – so we're very happy with our results here. Pleasure of a job, we would say.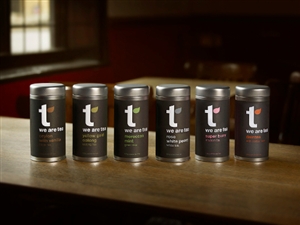 Prev
Scouts glassware
Scouts glassware
Next
Jewellery Packshots
Jewellery Packshots