Innovation in Photography
Packshot on 02/02/2012
In photography, a little innovation can take you a long way, and a recent example from our studio illustrates the point neatly.
In short, we borrowed a technique from the world of film. Local filmmaker Paul Joy recently wrote of the benefits of the Glidetrack Hybrid Slider, which allows fabulous video shots from a variety of inclines, compensating nicely for uneven ground and designed to be used horizontally or vertically. Very convenient.
We used it for an Olympic-themed shoot with a cyclist, to capture the blurred road and light trails from vehicles. The image below is actually a composite of three photographs, comprising this, a background image of Canary Wharf and a separate image of the cyclist. It worked well.
But the real point of using the slider was to achieve a sense of authenticity. It would have been simple enough to replicate the blurring effect in Photoshop. But we wanted to capture as much as possible in-camera, and with a higher degree of realism.
Imagine it. You're in a car on a motorway. The road signs appear to pass by far more quickly than the trees in the distance. This is called motion parallax. By adapting our equipment, it was easier for us to capture this effect in-camera – to capture the movement of the road (more blurry) and the light trails (less blurry) – than it would have been to replicate it in Photoshop. So we did.
It's a technique we'd recommend – and it's easy to see why filmmakers like Paul recommend it too. Do give it a go if you get the opportunity – and share your innovative ideas with us too. We'd love to hear of any.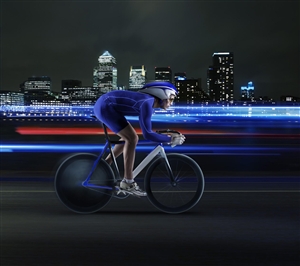 Prev
Range Rover
Range Rover
Next
Guardian Eyewitness
Guardian Eyewitness