London 2012
Packshot on 12/01/2012
Ahead of this summer's Olympics, we took a trip to London to produce a series of photographs around the theme of athletics. Taking care to avoid the capital's most obvious landmarks (avoiding the area around Westminster, in other words), our simple idea was to evoke the heightened atmosphere and sense of occasion of an athletics event, linking it with various London landscapes.
The night-time setting is crucial here, allowing the lighting to direct the focus onto the athlete's movement. In full flow, she looks motivated, focused and dedicated. The backdrop of Canary Wharf adds another element of anticipation and excitement, and achieves this effect neatly, without looking intrusive – as many of London's tourist attractions would have done.
It's a favourite of ours in the studio. Feel free to let us know what you think.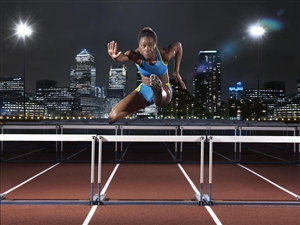 Prev
Firecracker: Women in Photography
Firecracker: Women in Photography
Next
A Year of Progress
A Year of Progress