Start-Rite
Packshot on 06/06/2014
We recently worked with Start-Rite, specialists in children's shoes with a very strong background in providing children with correctly-fitting shoes. Having produced children's shoes for well over two hundred years, remaining so prominent in their market throughout, we knew we were working with a prestigious company and were very pleased to play our part in this shoot.
To reflect the prestige of the company, the grounds of Narborough Hall in Norfolk were chosen as a location for the shoot, with furniture and garden features included in many of the final images. Among the ideas for the shoot was a 'best of British' theme, with Union flags and bunting featuring prominently. We thought hard to create appropriate colour schemes for our images, matching each pair of shoes with objects which complemented or accentuated particular colours.
As a final note, it was a particular pleasure to work with Start-Rite because of their origins in Norwich, where our studio is based. Although we work nationally and internationally, it's always nice to find a local connection with a client.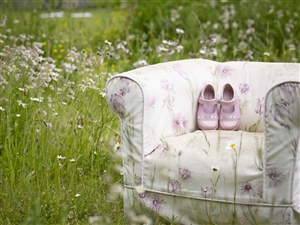 Prev
Help With Creating Packshots
Help With Creating Packshots
Next
Finding The Best Product Photographer
Finding The Best Product Photographer