MasterChef Cookware
Packshot on 06/01/2017
From sports stars to pop stars, almost all of us can name a brand that has been enhanced by a celebrity. To name a few, there's Beyoncé, Shakira, Britney Spears, Kanye West and dozens of others who have endorsed Pepsi down the years, Gary Lineker and his Walkers crisps and the millions and millions spent by EA Sports hiring sports stars to promote their video games.
In short, this marketing technique has a history of success, as Pepsi battle with Coca-Cola for the number one soft drink on the globe, Walkers dominate their market and the FIFA video games continue to increase their market share each year.
It isn't only big business that seeks celebrity endorsement, though. The personal recommendation of a trusted public figure adds an element of distinction to many, many products. It's a persuasive technique. Similarly, goods which tap into a trusted brand can often expect increased sales. Along these lines, think of all those film tie-ins with cereal brands and fast food chains.
One of our recent clients has produced a range of kitchen accessories with just this kind of branding, building upon the enormous success of the BBC's MasterChef series. Expertise is the key to success for MasterChef's contestants, and our client, The Cookware Company, look set to capitalise on its association with quality with their range of branded stainless steel cookware. Spatulas, whisks, pans, baking trays – you name it, you can buy it, with the MasterChef seal of approval.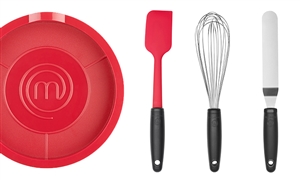 Prev
The Cost of Product Photography
The Cost of Product Photography
Next
New Year's Resolutions
New Year's Resolutions