Matthew McGuiness
Packshot on 17/04/2013
Have you ever read a good novel and wondered how it can possibly be turned into a film, imagining how any film-maker would manage to fit all the twist and turns and complex emotions onto the screen? Well, many films manage to achieve this. Though it takes some 90 minutes to two hours of a film with many sequences, background music, complex lighting, may be stunts and superb acting skills to achieve the conversion. For huge epics like Lord of the Ring series, it takes several films.
Of course, there'll always be those who will swear by the book and others who will prefer the fascinating ways in which the film may unfold a story. To each their own likes and dislikes.
But how do you capture the mood and tenor of a writer in a single portrait? Well, at Packshot we find a challenge like this exciting. And that's what we've tried to do with the portrait of Matthew Guiness.
Mike was commissioned by a local crime writer, Matthew McGuiness, to do some portraits' of him to promote himself and his up and coming career. It was a welcome change for Mike and a chance to use his creative flair to create some images, which reflected Matthew's subject for his novels. We went to a nearby woodland area and Mike's clever use of lighting and photography created the dark and slightly eerie feel he was after.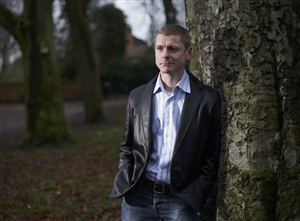 Prev
Virgin MoneyGiving campaign
Virgin MoneyGiving campaign
Next
Biking glory
Biking glory